Our commercial blind specialists at Labetts were thrilled to be contacted by a global insurance company to carry out a fabric swap on the current blinds in their London office. The office space already had blinds installed, but the occupants were suffering from glare issues due to the current fabric letting in too much sunlight.
Our team always aims to go above and beyond using intelligent solutions tailored to your circumstances. During this project, we overcame the glare issues the occupants faced, by using a fabric with 1% openness instead of 3% openness, helping reduce discomfort and increase staff well-being and productivity.
An on-site survey visit was conducted to accurately measure for the new fabrics for their blinds. This was crucial as the fabrics had to be manufactured to a specific standard to ensure the existing blind hardware on-site could be reused, omitting the need for complete new blinds to be installed. Whilst on-site, the fabric was also matched, meaning the replacement fabrics wouldn't alter the aesthetics of the area. Once the survey was complete, we provided the client with a same-day quote, which they happily obliged and an order was promptly placed.
On manufacture of the fabrics, we sent them straight to our office so they could be thoroughly inspected prior to arriving at site. During the out-of-hours installation, the top of the fabric was cut with a mylar strip, and the bottom section of the fabric had to be carefully inserted into the hembar of the blind.
Despite this being a smaller project, with 12 blinds to fabric swap, our technicians were subjected to many challenges during the project. Due to a busy working environment, the blinds installation had to be done outside of working hours. During installation, our technicians experienced one particular challenge, where a plasterboard partition on site initially prevented the technicians from being able to remove the side channel to insert the zip of the new fabric. However, our team was able to promptly overcome these problems resulting in an outstanding finish.
The client was over the moon with the end result and the service provided from straight to finish, including the clear communication maintained throughout.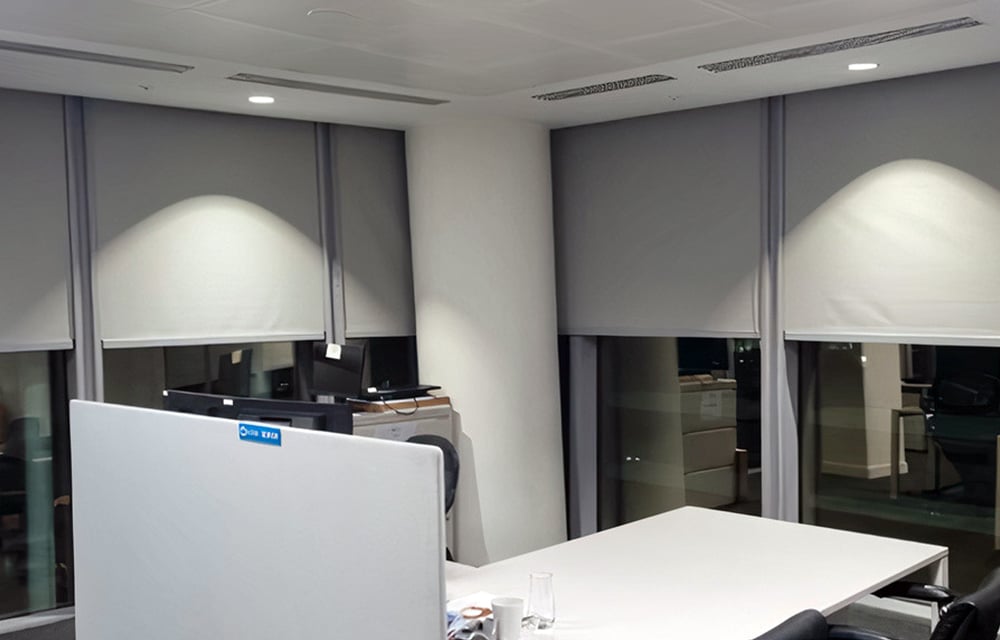 If you want to replace the fabric for your blinds or maintain your commercial blinds, don't hesitate to get in touch with one of our expert team members today to learn more about our service.